Enrique Tomás – PhD candidate at the Institute of Media Studies – Kunstuniversität Linz
Supervised by Prof. Dr. Martin Kaltenbrunner
A "Tangible Score" is a tactile interface for musical expression that incorporates a score in its physical shape, surface structure or spatial configuration.
Concept and Technology behind Tangible Scores:

Watch tangible scores concept in HD on Vimeo.
Performing Tangible Scores:

Watch live from the basement in HD on Vimeo.
Tangible Scores as an art installation:

Watch tangible scores installation in HD on Vimeo.
A Moment of Transition (Enrique Tomás) – TEASER from enrique tomas in HD on Vimeo.
Using sound as a continuous input signal, both synthesis and control are available simultaneously through direct manipulation on the engraved patterns of the physical score. Every interface is conceived from a different graphical score that still represents a musical idea but it has been also specially designed for providing a diverse palette of acoustic signals when touched. But more important, the tactile scores define and propose specific gestural behaviors due to the different affordances and constraints of the object in front. Sound is generated through a polyphonic concatenative synthesis driven by a real-time analysis and classification of input signal spectra. Each of the scores is loaded with a specific sound corpus that defines its sonic identity. Thus, "Tangible Score" provides a implicit visual and haptic feedback in addition to its sonic core functionality, making it intuitive and learnable but as well suitable as an interface for musical improvisation and sonic exploration.
Lecture @IRCAM: Towards Non-Linguistic Writing for Music – A Performative Approach (New Notations Symposium)

Some photos of Tangible Scores:

NIME's 2014 paper:  Tangible Scores: shaping the Inherent Instrument Score
TEI's 2016 paper: Tangible Scores: an Inherent Score Installation
TENOR's 2016 paper: Instruments as Score: A Hybrid Approach
Interface Politics Conference 2016 paper: Politics of Musical Interfaces: Ideologies and Digital Disenchantment
2017 – Informatics Journal (MDPI): How the Arts Can Help Tangible Interaction Design: A Critical Re-orientation
ICMC + SMC 2014 Concert Program Notes: Tangible Scores Concert ICMC – SMC
Article @ CDM and Adafruit Blog

ACM – Interactions: Review

The Overloaded Score (article in Spanish):
Sónar 2014 report in La Sexta TV: http://www.lasexta.com/noticias/cultura/sonar-2014-mueve-cerca-millones-euros-tres-dias_20140615572651d94beb28d44601fcee.html
A WAZ German Newspaper review:
https://www.waz.de/staedte/herne-wanne-eickel/blaues-rauschen-bot-internationalen-kuenstlern-eine-buehne-id212188013.html
Some concerts and presentations of Tangible Scores:
– ICMC+SMC Conference Athens 2014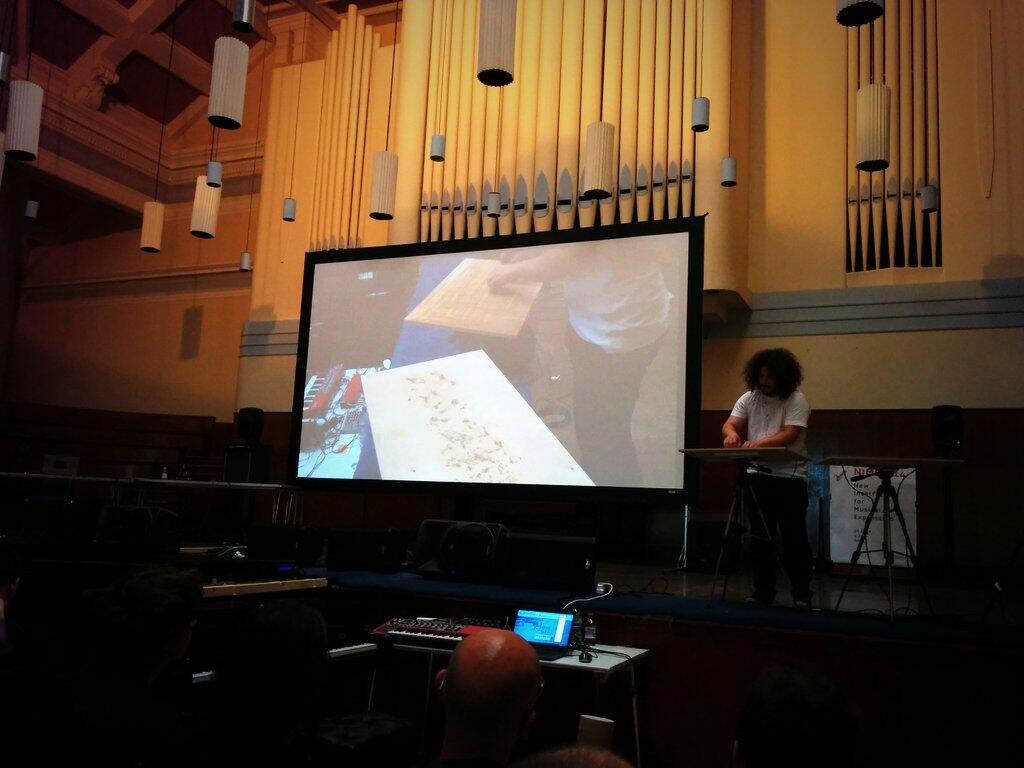 – Sonar Festival Barcelona 2014

– Ars Electronica Festival in Linz 2014
Concert in IEM CUBE in Graz by Intra-Sonic Duo (4.2.2017)
Lecture at Humanities Lab – University of Sussex

Lecture at CTM Festival 2017 – Music Makers Lab: